When it was released, Mendix Assist was the first AI-driven, low-code development assistant. It promised to revolutionize the low-code market by offering help to training providers, both technical and non-technical.
So
I was very curious to see
whether
that expectation was met
,
and what
new
features
we
can expect in the future.

Recap
Amir Piltan explored the great success of AI-assist, with over 50% of developers using it regularly. Since its release the AI-assist has been continuously improved and is now able to suggest more activities and understand more of the microflow context.
The big reveal from the keynote at Mendix World was a new AI-powered performance analyzer. This robot checks the model for common performance anti-patterns, like committing in a loop.
The performance analyzer works on three levels by:

Finding the anti-pattern in your model





Recommending how to refactor it yourself (currently only textual, visual guide coming)




Refactoring the anti-pattern in the model with ONE click (wow)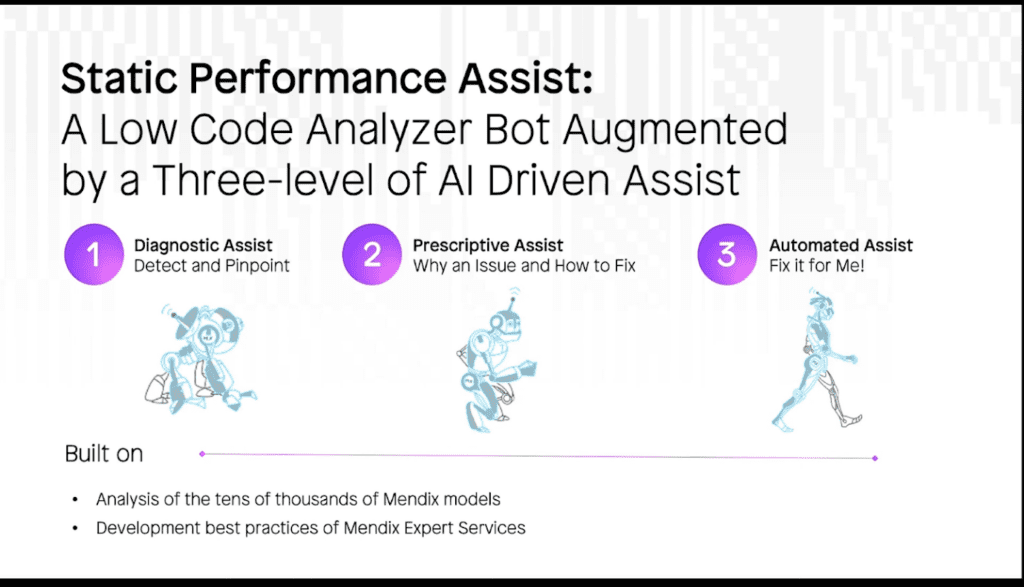 In the future, the static analyzer will be even more powerful, with the addition of a runtime analyzer that will review the running application data to identify where performance can be improved.

The beta for the Static Performance Analyzer is scheduled for Q4 2020, so make sure to keep an eye out for it. In the meantime, you can check out this blog series on Mendix app performance . It highlights some less obvious performance anti-patterns and how to refactor them.
Opinion
This tool is a welcomed addition to the Mendix suite. Performance is one of the key considerations when building apps, and it is great to see that there is another tool to help with that. It's especially helpful for junior developers who might not be aware of all the Mendix best practices, something this tool will help them learn.
The demo focused on a handful of anti-patterns. I am curious to see how many anti-patterns the product will have when it launches. Overall I am excited about the new developments and have the feeling Mendix is moving in the right direction.