Retailers are undergoing a massive shift to e-commerce selling, shifting their business paradigm from 'make then sell' to 'sell then make'. Together with Jason Enzweiler from Mendix, we spotlighted this transformation in our Mendix World Session, creating the future of fashion and retail with low code. In case you missed it, I've collected the essential information for you.
In this blog, you'll learn about Mendix PLM for Retail and Fashion, a low-code solution built to enable the 3D design process for brands and retailers as they adapt to this new way of selling.
"The secret of change is to focus all your energy not on fighting the old,
but on building the new"
-Dan Millman
START DIGITAL, STAY DIGITAL
Accelerated visual commerce demands require Brands to provide picture-perfect visual representations of products for personalized, customized, and interactive engagements. Engaging with Native 3D technology and enabling 3D product development processes facilitates the Design Sell Make paradigm. Measurable values of digital transformation quickly emerge with 3D, such as reduction of physical prototyping and sampling, consumer personalization, and a reduced time to market. Harnessing the explosion of the complexity of technologies, integrations, and emerging capability needs is key to competitive advantage; otherwise, organizations risk falling behind their competition.

THE NEXT GENERATION OF PLM
That is why CLEVR and Siemens teamed up to develop the next generation of product lifecycle management for retail and consumer goods. This new solution is intrinsically designed on a platform to eliminate historical technology development archetypes. Mendix PLM for Fashion and Retail addresses persistent KPI needs, like:
Freedom from traditionally long development release cadences with the Mendix PLM solution for Fashion and Retail built on the Mendix low code platform and rapid app development software

Harness complex integrations with the latest integration protocols such as APIs, REST- services, REST-services (json), Security certificates/standards, integrated materials (U3M), the 3D model with agnostic file formats (FBX), and 3D visualization with the use of iFrames.

Condense implementations with one-click deployment capabilities and managed services.
This singular ability to integrate 2D/3D design software with data synchronicity in PLM represents an authentic example of the 3D product development process and quantifiable digital transformation value.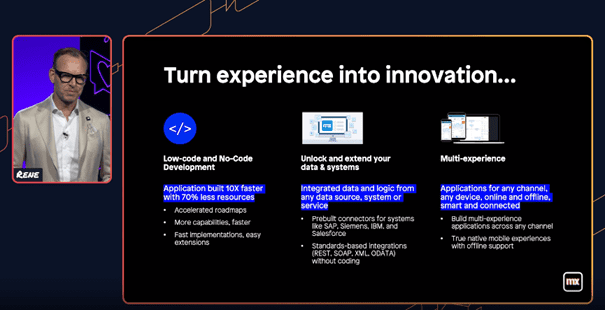 CENTRAL HUB OF DIGITAL PROCESSES
Our vision of starting digital and stay digital is to see PLM as the central hub of all the digital processes. In our opinion, it is the only way to successfully create a digital pipeline that supports the end-to-end process from ideation, line plan, prototyping, development sampling to production and sales. So, this means your PLM system must be able to integrate seamlessly with the digital tools you use to do your 3D sketches, 3D detailed design software, 2D Pattern software, and even your digital showroom. This vision is the basis of the Mendix PLM for Fashion and Retail.
"And it's 'Start digital and stay digital'. We are going 3D from the beginning all the way through manufacturing and enabling that process to happen. This solution is build for the future and build for what the companies need today in this world."
Do you want to learn more about CLEVR and the Mendix PLM for Fashion and Retail solution? Feel free to contact us or follow us on LinkedIn for announcements, product updates, success stories, events, and more!