In the dynamic world of manufacturing, the key to success lies not only in efficiency but also in optimizing operational technology (OT). Every second counts, and the ability to harness and analyze the invaluable data generated by machines in real-time can make or break a factory's success. However, the challenge lies not just in collecting massive amounts of data, but in sifting through and saving the necessary information for smarter decision-making.

To meet these needs, industries are revolutionizing their approach by turning to Industrial Edge Computing, a concept that seamlessly connects the hardware on the factory floor to the cloud. This is where innovative solutions provided by Mendix, Siemens Industrial Edge and CLEVR become crucial players. In this article, we'll discuss the elements of Industrial Edge and explore how it is transforming factory management with advanced tools integration.
Understanding Siemens' Industrial Edge Ecosystem in Manufacturing
Industrial Edge Computing is a solution that seamlessly connects the hardware on the factory floor to the cloud, facilitating real-time data analysis. It effectively bridges the gap between physical machinery and digital infrastructure, enhancing both efficiency and responsiveness.

At the heart of this transformative concept is the Siemens Industrial Edge platform. This robust architecture deploys Mendix apps on Industrial Edge devices, serving as the vital link connecting Programmable Logic Controllers (PLCs) to the Siemens Industrial Edge ecosystem. This open, ready-to-use edge computing platform is ideally suited for any manufacturing floor.
The Siemens Industrial Edge platform comprises three core elements:
Industrial Edge Hub: This is essentially a global repository where customers can centrally distribute purchased or self-developed apps to multiple management systems, enabling the adoption of machine-as-a-service solutions. Custom applications created using low-code solutions like Mendix can be effortlessly brought into this ecosystem, bridging the gap between consumers and producers.





Industrial Edge Management (Cloud): This software-as-a-service (SaaS) instance of the management system provides a customer-managed system that encompasses custom-made applications, third-party apps, and other solutions from the Industrial Edge Marketplace. It offers easy maintenance and control of edge devices and apps for production sites on a global scale.

Industrial Edge Device: These industrial PCs interact with machines on the shopfloor (OT) in real-time and provide access to the data they generate. Through Industrial Edge these devices get their ability to communicate, collaborate, and make informed decisions across various manufacturing units.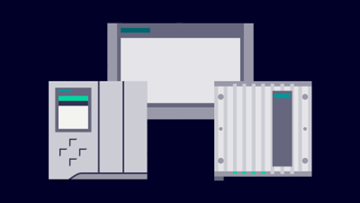 The Siemens Industrial Edge ecosystem simplifies the interaction between consumers and producers, effectively bridging the IT and OT gap. Built-in connectors make data easily accessible in a consumable format, paving the way for digital transformation.


The Power of Mendix and Siemens Industrial Edge Integration
Mendix, traditionally linked with manufacturing, lacked a direct connection with machines. However, this gap has been bridged with Siemens Industrial Edge (IE), creating a path to full digitalization and automation.
Siemens IE provides an ecosystem for deploying Mendix apps on Industrial Edge devices, connecting the PLC data to the Siemens IE ecosystem. This open, ready-to-use platform effectively turns raw data from the manufacturing floor into actionable insights for process optimization, predictive maintenance, risk identification, and more.
The Siemens IE ecosystem includes an edge device, edge applications, connectivity services (e.g., to the cloud with Insights-Hub), and an edge management platform, all designed for industrial manufacturers. It elegantly layers complex architecture, making it easy to deploy on any manufacturing floor.
The combination of Siemens Industrial Edge and Mendix, along with partners like CLEVR, is transforming manufacturing. It breaks down IT and OT barriers, improves machinery performance, and enables digital transformation.


How CLEVR helps in bridging the IT-OT Divide with Industrial Edge?
Software creation and machine programming are diverse, using different PLC protocols, such as ladder diagrams, structured text logic (STL), and others. As a solution provider, understanding IT and OT to build solutions is challenging, especially when OT is a new territory. Without comprehensive knowledge of both domains and a suitable framework to connect IT with OT, solution development becomes a heavy task.

Consider an industrial manufacturer producing car engine chassis. They need machine X from an original equipment manufacturer (OEM) to ensure top quality. This machine has an industrial edge device for optimal operation, risk assessment, and machine health monitoring. In this scenario, different companies can collaborate through Edge ecosystem to make informed decisions about their machinery and overall performance synchronization. Both parties control their data sharing and independently manage applications in their local app repository.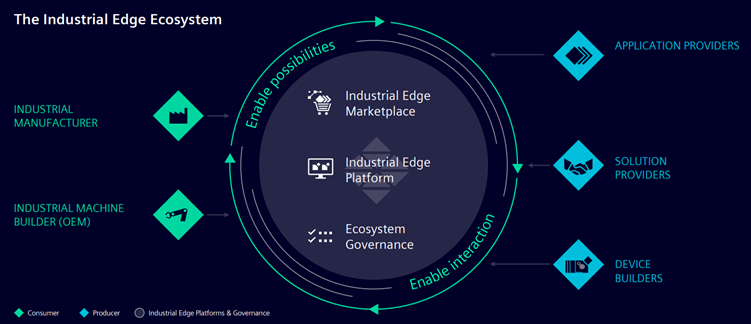 Solution partners like CLEVR can play a critical role here, they excel in developing solutions for both OEMs and manufacturers. This underscores the immense strength of domain expertise, backed by cutting-edge technology.
The outcome? A collaboration where different companies can work together, discover latent variables, and optimize machine performance. The Industrial Edge ecosystem effectively links consumers and producers, tearing down the barriers between IT and OT with its in-built connectors.

The Mendix, Siemens, CLEVR partnership is pushing manufacturing into a new era. Seize this digital transformation with real-time data, optimized machinery, and IT-OT collaboration. Reach out to CLEVR to learn how we can help you with our expertise, modernize your operations. Together, let's create an advanced, streamlined, efficient manufacturing landscape. In other words, let's Build Tomorrow Together.