You know those meetings where you need a concise decision on a certain topic. You planned half an hour for the meeting. After two hours you are still wading through everyone's opinion, without any solution or decision in sight, ultimately being overruled by a manager. With the introduction of holacracy, this(among other things) will be a thing of the past. This blog will take you through the reasoning behind holacracy and my personal experiences.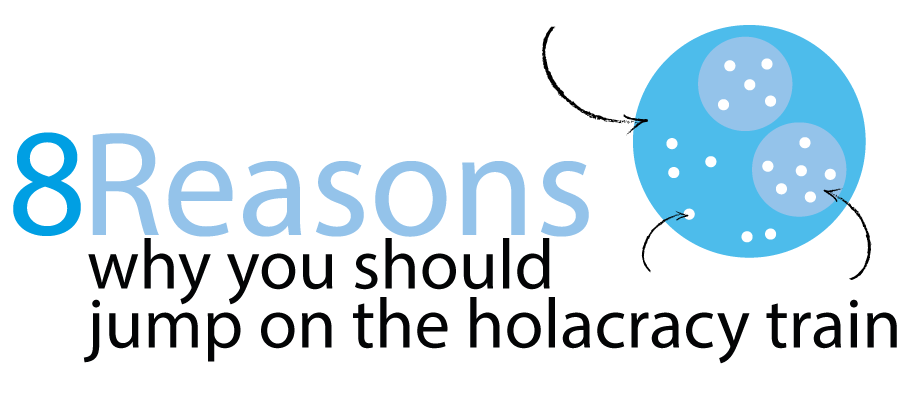 DEFINITION OF HOLACRACY

The term holacracy is derived from the term holarchy, coined by Arthur Koestler in his 1967 book The Ghost in the Machine. A holarchy is composed of holons (Greek: ὅλον, holon neuter form of ὅλος, holos "whole"; "holocracy" would have been a more regular formation) or units that are autonomous and self-reliant, but also dependent on the greater whole of which they are part.[5] Thus a holarchy is a hierarchy of self-regulating holons that function both as autonomous wholes and as dependent parts.
RESPONSIBILITIES AND ROLES WILL BECOME CLEAR
The first thing you do when introducing Holacracy is, make a list of the work that is being done in the current organization. When this is clear, roles are defined, which cluster all these tasks(longterm and repetitive) into a descriptive role. The roles are defined by the members of the team. After this, the roles are assigned to the different team members. The big difference is that these roles are determined around the work and not around the person. One person can fill several roles. The goal here is to give everybody accountability, transparency and a complete, precise and relevant list of the responsibilities, that are part of a role. In practice you see that this is rather a large shift in the office culture and takes some time to get used to. It's likely you will need a couple of tries to create a good foundation. Ultimately that is precisely the way it works, since holacracy dictates, that this is a continuous process of improvement(Agile anyone?).
HIERARCHY WILL DISAPPEAR (TO A CERTAIN EXTENT)
All of the defined roles are clustered in an entity called a circle. In the new situation the manager is asked to transfer his or her responsibilities and stop delegating authority to employees/team members. This transfer is recorded in an actual contract, which the manager must sign. All of this authority and responsibility is divided into roles and the roles are assigned to the employees/team members. The manager will spend less time tending to operational issues or escalations. Usually the manager is assigned the role of Lead Link. With the extra freed up time, the Lead Link will have room to tend to his or her core responsibilities, like defining priorities, strategies and metrics within a circle of roles. The actual transfer of authorities and responsibilities to the roles in the circle, is not something that is taken lightly by a manager and will often come with some hesitance. Ultimately it enables the manager to focus on their core responsibilities and let the experts handle the operational activities!
TEAMS WILL BECOME AUTONOMOUS AND SELF-RELIANT
Teams will be able to become more autonomous and self-reliant. This will be a direct effect of the transparency, which holacracy introduces into an organization. All assigned roles and responsibilities will be clear for everyone in the organization. Everyone is expected to take full responsibility, for the activities performed within their assigned roles. Consequently a team will know everything they need to complete their ongoing activities. If some of the responsibilities aren't clear, then these will be addressed in the role meetings and assigned to a role. Already Autonomous and self-reliant will not need this methodology to get to this stage. In real-life situations you will see that teams acting autonomously and self-reliant, will be very much dependent on the maturity of the team and the organization. The difference between holacacy and other methods is, that holacracy creates the prerequisites organization wide, to enable teams to work autonomously.
EMPLOYEES WILL BE MORE EMPOWERED AND MOTIVATED
As mentioned before, within holacracy there is little to no hierarchy. And because the manager agreed to part with his/her responsibility, the employees/team members do not need to create status reports for a manager, or take part in managerial discussions. All meetings are more efficient and are also scheduled with a repeating nature. This eventually means that the employee has the responsibility for his or her own progress. They also have a mandate to make decisions about his or her responsibilities. And without tasks, which only served to inform the manager, the employee has a lot more freedom to complete their tasks. This ultimately will motivate and empower people, to exceed expectations. Personally, I welcome the opportunity to take responsibility and ownership, without having a superior telling me how to do my work. Within Mansystems we already work this way, without having fully implemented holacracy. Within our organization, employees are expected to use their expertise to take ownership in any situation that is thrown at them.
MEETINGS WILL BE MORE EFFECTIVE
Say goodbye to endless meetings, to come to a compromise, which nobody actually supports. In holacracy an agenda is determined during the meeting. Every separate 'tension' is explained, without anyone interrupting the person, who is explaining their 'tensions'. A tension is a felt sense of a gap between the current reality and a potential future. Every tension is by definition a valid one and must be addressed. For all tensions a workable solution is found, which can be implemented with everyone's consent and without having endless discussion over it. And the beauty of this, is that it is not required to have a perfect solution. Tensions will be converted into actions which will result in an adequate solution. In my opinion, this will help us a lot. Since we have a lot of experts in a lot of different fields, discussion tends to occur a lot. This is fine of course, but the holacratic methods will try and make sure we have a fast and workable outcome, with little to no wasted time.
DECISION MAKING WILL BECOME MORE ROBUST AND FASTER
Holacracy introduces a decision making process, which has a lot to do with the foundation of democracy. Any and all tensions are addressed within holacracy. After this a 'workable' solution is thought up. After devising the solution, everyone has the chance to make a valid argument, as to why this solution would not be 'workable' or adequate. No discussion is allowed to come to the utopian 'perfect' solution. This process is governed by a facilitator, who makes sure the process of finding a workable solution is followed step by step. This will make "decision making" easier, faster and with robust, workable outcomes. I will have to see this to believe it. I try to have an open mind in these things, but this process includes people being cut off as soon as they can't raise a valid argument. And suggestions for other solutions won't count as a valid argument.
YOUR ORGANIZATION WILL BECOME MORE PRODUCTIVE
When holacracy is implemented in a company, relations start shifting. Employees or subordinates turn into colleagues. Decisions and solutions will be a product of the team. And because the employees are the experts in their area, they make informed decisions and produce the best "workable solutions". The experts are there to add value, expertise and skills. Through integrative decision making, an organization will make fast, concise and well informed decisions. This will cut the time wasted on endless discussion to find the perfect solution. This leaves time to actually realize said solutions. A great example of what can be achieved with holacracy is Zappos. This is one of the larger companies to adopt holacracy successfully. After implementing holacracy, they have continued to advocate it to this day, as being the way forward. Apart from hierarcy being 'psychologically' comforting, there is no denying the pros of holacracy.
NEXT STEP…
At the end of the day, it's up to you to decide if you need holacracy and if it suits your organization. If you like what you read in this blog, than please do check out the following links or contact us. At Mansystems we are still in the early stages of our holacracy journey. I am truly curious on how it will work out and will keep you posted on our progress and inevitable pitfalls.
Sources
http://www.fastcompany.com/3015567/the-25-hour-work-week-and-other-radical-ideas-for-better-employee-productivity
https://www.voys.nl/weblog/voys-als-eerste-ter-wereld-volledig-zelfsturend (Dutch)