1990 – H2H
Hello, this is Jim speaking, how may I help you?
Does this sound familiar?
This was in a time where people called Jim (or preferably visit him at his desk) and explained their problem to him. Jim was understandable and comforting and tried to fix the problem immediately, or otherwise created a ticket in the helpdesk system for later reference.
Discussions, reactions, emotions and explanations were used to determine the urgency of tickets and the necessity of fixing it in a certain timeframe. Human to human (H2H) interaction at his best.
Jim met (and in most circumstances knows) the person that is experiencing the problem and therefore has a "personal" connection with him or her. Therefore solving the ticket and communicating progress is a "normal" part of his work ethics.
2000 – M2H
A couple of years later, more and more automation was added to support processes in where problems were detected before customers even realized that the problem existed. Interfaces with monitoring systems allowed organizations to log tickets automatically and dispatch them to Jim. You can see this as the Machine to Human phase (M2H). From an efficiency perspective, this was a good idea, but from a customer intimacy point of view, it was not.
Although Jim is solving tickets that are logged by a monitoring system, there are actual customers behind these affected services. Since Jim does not know exactly who these customers are, he does not have a personal connection with them. He does not have the feeling he is helping a person, but more or less helps the "system". He loses some of the purpose of resolving the issue and the chance that the solution does not fit the customers' expectation is substantially.
TODAY – M2M
The world is rapidly transforming into an internet connected world. Devices are getting smarter, they are designed to help us, are always running and are everywhere around us. Your phone, watch, TV, laptop and TV Box are some examples of these devices, but more and more devices are launched daily. In the near future our homes, cars and bikes will become sophisticated devices. Offices, hospitals, shopping centers, movie theaters and grocery shops will have sensors, beacons and tokens to determine who you are, where you are and what you are doing (and did). And when you are not in a building, the outdoors will have sensors as well. Examples of this are automatic street lightning that turns on and off when someone approaches, find empty parking spaces in a crowded city, trash pickup when needed and crowd management, the so called "Smart Cities".
All these devices will collect data involving their surroundings and can be used for different purposes. Also service related information will be present and is used to feed the service management tooling if something goes wrong. By triggers and actions that perform automatic restarts, are doing device resets, rollout firmware upgrades or disable certain functionality, the human factor is completely removed from the service process. Do we really think that this machine 2 machine (M2M) interaction is a good idea?
You know what… Let's fire Jim, we don't need him anymore.
Or do we?
At first glance, automating the service process is a good idea. The more automation you achieve, the more efficient your service process will be. But when there is customer interaction, you have to think twice. You do not only want to have the service restored as quickly and efficient as possible, but you also need to keep your customers in the loop. Who is paying for your service, the customer or the "machine"?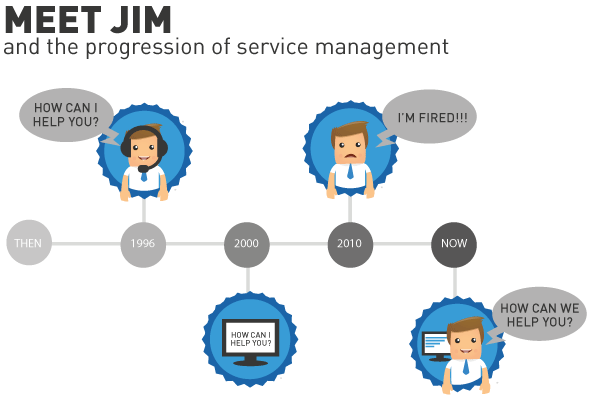 NEAR FUTURE – M2M2H
Hello, this is Jim speaking, we noticed that you had to make an emergency break with your car on route 19. Are you okay? Do you need any medical attention or are you in need of the emergency services?
Oh, it is good to hear that everything is alright. Can I assist you with anything else?
Machine to Machine to Human (M2M2H) interaction at his best.