The Internet of Things will have a major impact. How will it influence the way companies organise their service and does it impact the customer's expectation of service.
A couple of weeks ago when I was driving, or rather when I was stuck in traffic, I looked at two alarm like buttons in the roof of my car. I remembered what the car dealer representative told me when delivering my new car: One of them is to contact the emergency breakdown service, the other to contact the nearest official car-make dealer. I could barely resist the temptation to press one of the buttons.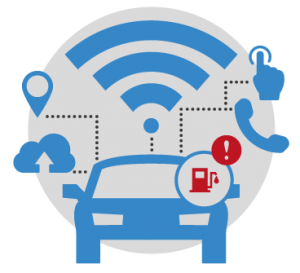 Last week, all of a sudden an emergency light started blinking, informing me that I needed to add some fuel additive. It wasn't until the next day that I called my car dealer and made an appointment, the old-fashioned way. But I started wondering; what if I had pressed the button…
Would I just get to the same call queue as anyone else contacting the dealer, or would the dealer instantly know what was wrong with the car and schedule an appointment, or would the system know the occupancy of all dealers as well as my daily routes and give me a couple of alternatives for an appointment. Probably the first.
This scenario includes human interaction. But what if my car itself would send a signal automatically. Of course a lot of information would need to be available about me, my car, the impact of the error, the dealers' work schedule, spare parts, etc. For the sake of not writing an article about all the Big Data and IoT challenges, I simply assume that the technical issues can be tackled.
IoT changes everything, but does it really…
With IoT a lot of data can be retrieved and stored. The issue is, how to use of all this data to improve your service.
In the optimal scenario, after taking into account the urgency of the error, the availability at the dealers, my personal schedule, etc., I would get the option to be directed to the best dealer match . The mechanic would know upfront what to expect (they would even have my favourite coffee ready when I entered). Alternatively, depending on the kind of error, I could choose to postpone my visit and make an appointment myself.
I would expect that the service would be the same as when I had made an appointment by phone. Although the service itself does not change, the dealer has to cope with the fact that a lot of his maintenance requests cannot be planned in advance. Therefor he needs to be very flexible. If I choose to go to the dealer directly, I may need to be more flexible as well. No strict service agreement, but more ad-hoc appointments (all within agreed boundaries of course). More information about this kind of agile service approach can be found in a blog by Wouter van Dee.
This example can be rewritten for almost any line of business. The interesting questions are on how to plan unplannable work. Do you only plan up to 75% of your resource capacity, to have 25% flexibility? Or is there any other way you can predict when you need to act. With cars for example, a lot of problems are prevented because of regular service. You can ask yourself if oil- and pollen filters are replaced because they need to be, or simply because they are on the routine maintenance checklist. It is easy to make choices based on what's most cost effective for the dealer and not for me as a customer.
And we accept that for cars or central heating, but also (at least in the Netherlands) for dental health. We have regular check-ups because of potential negative (financial) impact. If we don't go, our insurance will increase, actual repairs will be more expensive (default call out charge) or when I sell my car, the next owner will pay less because of the lack of maintenance.
For ICT it is not that common. Personally, I never ask my support desk colleague to do a check up on my laptop. I go when something is wrong. But what if some data is stored about fan usage, temperature, disk speed, errors while working (the ones I solve 'the Microsoft way' by rebooting). And this can be compared to peer data about number of incidents, mean time between failures, expected life span, costs to replace, etc.
Going for Predictive Maintenance
Predictive maintenance would help my service organisation to predict more accurately when maintenance is due, or a part needs to be replaced. So instead working with incidents (reactive) or the fear of incidents (preventive), you can now monitor the equipment and plan your work.
Sounds good? Then imagine servicing thousands of devices geographically spread… Do you want to run around and check them on a regular basis? Incorporating IoT, do you need to respond to every bleep? If you know how to interpret the data, you will see that your life will become easier.
Back to my car dealer…Will they change their way of working? Maybe not. Do they need to? Well, they should, since customers expect better service. For a lot of service organisations there is a need to be a lot more competitive in the digital age. With predictive maintenance you can be more cost efficient, both for you and your customers. No surprises, so you can focus on doing the right job and even excelling your customer's expectations.
And for those still in doubt, here's a quote by Henry Ford: "A business absolutely devoted to service will have only one worry about profits. They will be embarrassingly large."