This blog is about the CEO Keynote, Build the future together. You can watch the video here.
I was first introduced to Mendix in 2008. Mendix 2.0 had just been announced - there weren't even microflows yet. They were added in R2.5 Mendix, an important step towards taking low-code business apps to the next level
I remember like it was yesterday, the first Mendix World in 2010. Around 100 people, 4 partners, and a couple of presentations in a restaurant on the beach, with beers afterwards.


And now, more than 10 years later, Mendix has organized Mendix World 2.0, a complete online version of Mendix World, with more than 15,000 attendees around the world. And I must say, I was pretty excited. Mendix did a great job building up the tension. It was worth waiting, great intro, perfect voice-over and the technology worked seamlessly.
Mendix and CLEVR go way back. We have always aligned our strategies and work closely on customer engagement, product development, exploring new markets, and spreading the low-code vision. Mendix World, and especially the keynote from Derek Roos and Johan den Haan, is a perfect breeding ground for our current and future strategy.
In addition to the fact that Mendix has doubled its growth, generated 120K in revenue from new apps, and has more than 10 million platform users, most of what we heard today during the keynote speech is music to our ears, because the way we do business as one of the most important international Mendix partners in the community fully aligns with the Mendix strategy.
One of the important announcements was the introduction of Mendix Industry Solutions. With Siemens as a key driver, Mendix will not only be providing a low-code platform, they are also entering into the business app market. Field Service Management is the initial offering, but more will follow, along with app services and functional templates. That has been CLEVR strategy from the beginning - developing solutions that make an impact in a wide range of domain areas, whether it's price and promotion management in retail or PLM for the apparel industry. We are currently in close collaboration with Siemens to develop a standard PLM software product that will be launched in Q3 2020. It will be the first partner-developed product within Mendix Industry Solutions.

These solutions will be distributed in a global marketplace formally known as the Mendix App Store. They are taking this marketplace to the next level, transforming it into a space that offers direct subscription to new solutions or additional services like cloud resources. It will open up new go-to-markets for partners and enable them to develop their own products or bring them to the market even faster.
In contrast to previous years, this keynote presentation was a combined effort from Derek and Johan. Johan introduced Mendix as an all-in-one, low-code platform based on their low code vision. This all-in-one, low-code platform included more than 20 announcements and covered 6 main topics. Our CTO, Andries Smit, will take a deeper dive into these platform announcements in a separate blog, so please stay tuned.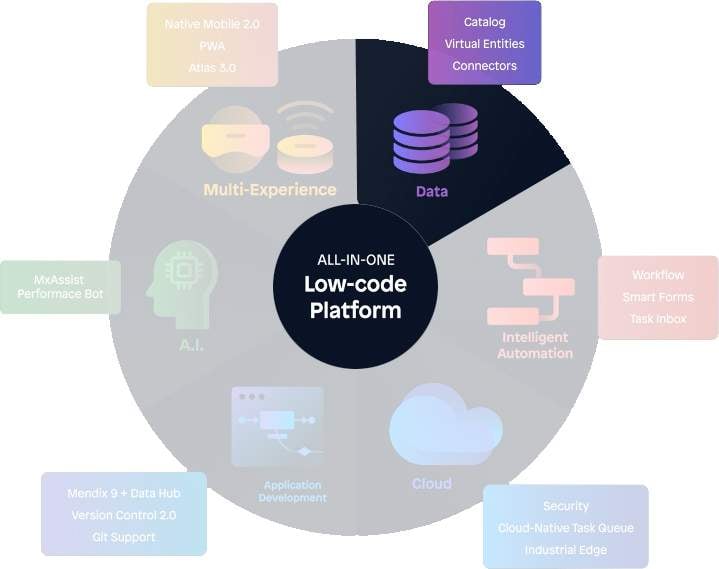 What was good to hear was that for nearly every announcement, they included a client reference. One of the major announcements is the introduction of Datahub, which makes data smarter and available across all Mendix Apps. I'm proud to say that one of the Mansystems reference clients, Gemeente Rotterdam, is one of the launching customers using datahub. The Datahub addition also fully aligns with our company. We believe in data-driven decisions, and access to the right data sets is key. CLEVR and CLEVR have a complete data science team with extensive experience in getting the most out of your data through algorithms, dynamic reporting, and business intelligence embedded into your Mendix Apps. Datahub now makes that even easier.
The second announcement focused on extending their Smart App strategy by adding new artificial intelligence functionality. Last year, Mendix announced MxAssist, with their first AI bot, and now they've added a newcomer called the MxAssist performance bot, using one of our clients, EndemolShine, as a reference. CLEVR is a key player in the Mendix community when it comes to quality assurance, code review, automated testing, and performance monitoring for your Mendix apps. Together, these products are called the Smart Digital Factory tools, and they improve the quality of your Mendix Apps while making them more predictable and cost effective. The MxAssist Performance Bot is a great extension to our toolset and has us convinced that quality is a key priority for every Mendix app.
Over the next few days, there will be more than 60 sessions and certainly more interesting developments to follow. So please stay tuned and follow our channels. Want to know more about our organization and how we add value to Mendix Vision on low code? Don't hesitate to get in touch.
Enjoy Mendix World!