This blog is about the 'Debunking the App Factory: Actually Getting There ' video and the 'Pairing Governance with Development, From One App to Full Scale ' video. You can watch them by clicking the link.

The elusive Mendix App Factory. Those who have tried googling it probably reached this blog post and not a lot else. But fear not: I will walk you through it and if you read till the end, I'll give you an even better option. You see, the Mendix App Factory itself does not seem to exist… That's simply because Mendix decided to call it start, structure, scale on their website, and it's part of their digital execution program. The Mendix App Factory is mentioned in two Mendix World 2.0 videos:


Both videos discuss the Mendix App Factory and the ASML customer case.

What is the Mendix App Factory? I would describe it as a Software Development Model at portfolio level.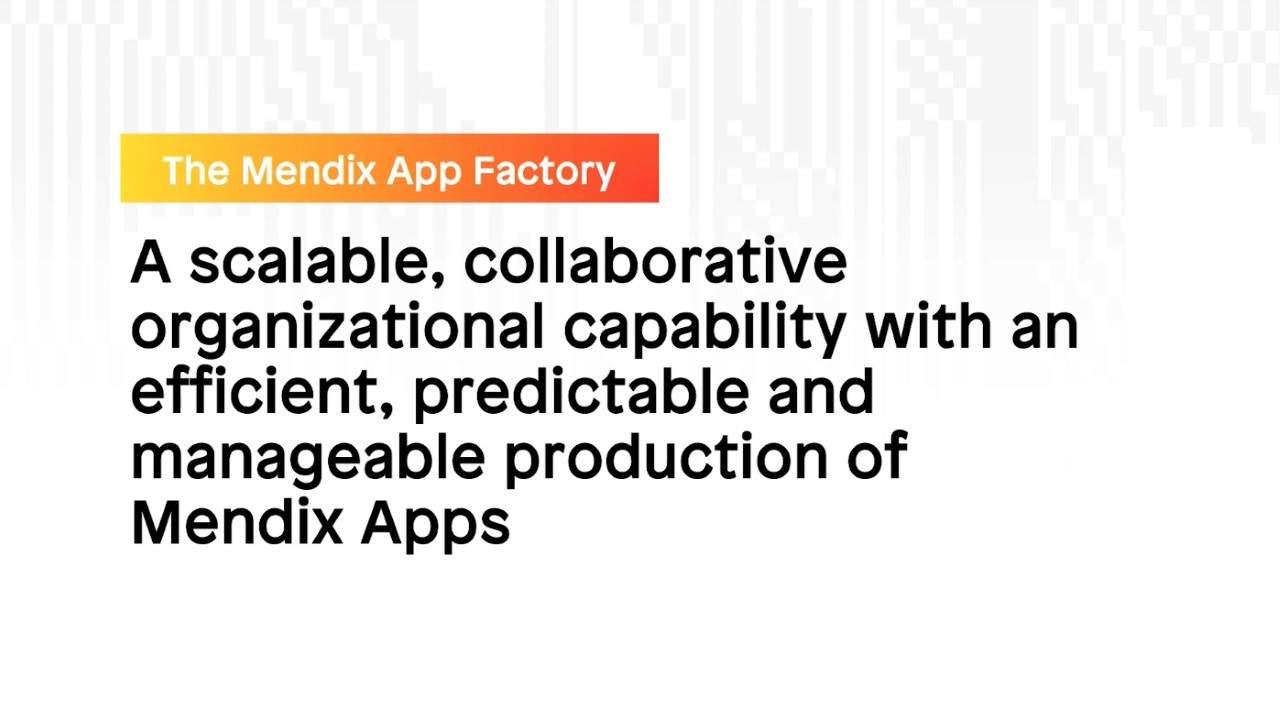 What does the framework bring you?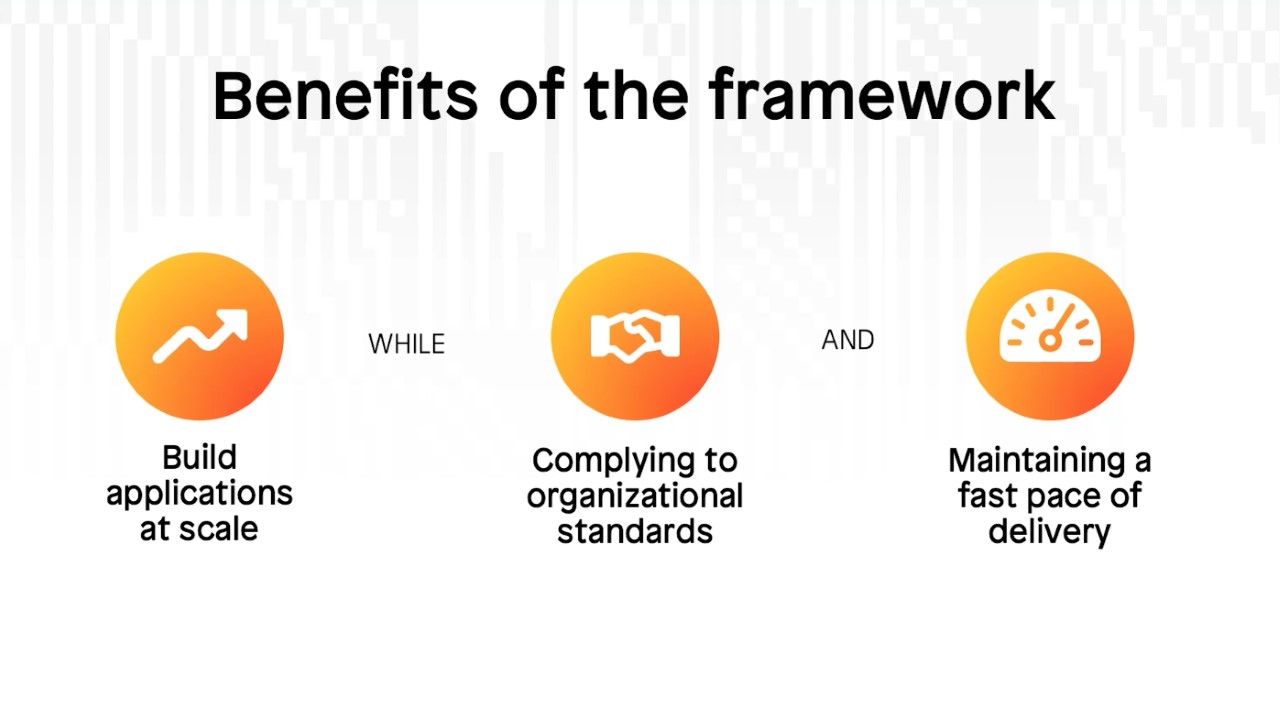 What does the framework look like?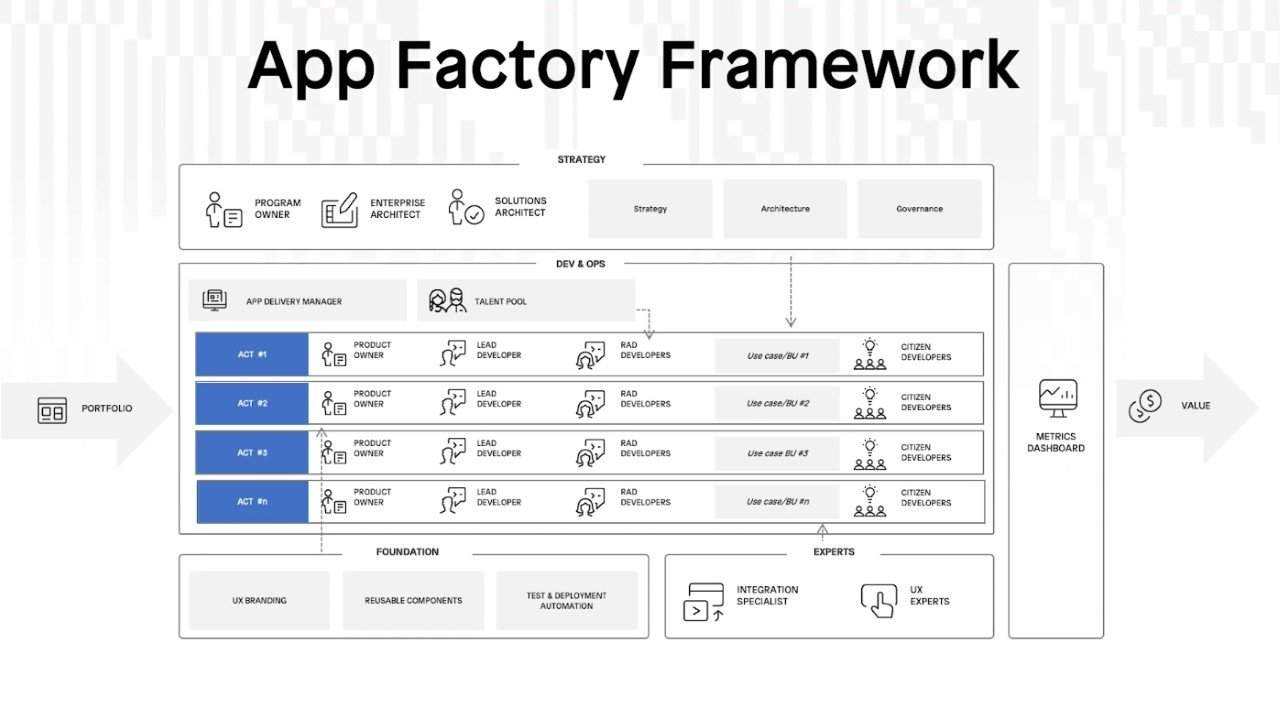 Arjo van Oosten explains part of the model in this blog post. The idea is to go from start, to structure, to scale in around six months. In that same period, the framework is set up. Let's do a quick walkthrough.
Strategy and transformation
Strategy is where the foundations of the framework are laid. The architecture of the enterprise and the different models for governance are created here – and both are very important. Governance includes the security standards, quality standards and testing process, all key to success.
Portfolio
Portfolio is the input for the framework. It involves processes like ideation, project inflow, estimates, and portfolio management. Basically, what is worth building?
Development and operations
The heartbeat of your Mendix development effort. In this module, the development guidelines and best practices are set up (for governance), while scalability should be covered by an onboarding process. You can see the 'factory lines' in the diagram. Each consists of RAD teams building applications. The support process afterwards as well as citizen development are also arranged here.
Foundation and experts
Experts ensure a consistent approach in your development process. Reusable components improve your governance and increase your development speed. And of course, automation – my personal favorite! Here, you ensure properly implemented DevOps practices to build automated quality controls. UX branding ensures a consistent look and feel, which includes a design system. A design system is a UX approach for an entire portfolio, not just a single application. For example: it includes reusable components to allow factory line developers to quickly style in line with the UX branding. And of course, the people to assist your RAD teams with the above.
Value management
In this module, you monitor and measure the real business value using metrics. Mendix claims they have these out of the box.
Another important step is continuously monitoring all the different aspects of the framework. And Mendix has provided a handy compass for just this purpose.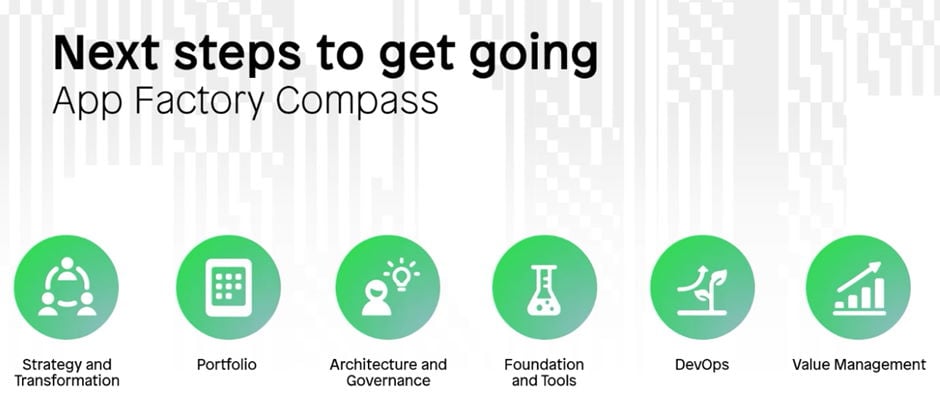 That's the Mendix App Factory in a nutshell. Nothing too complicated and it looks quite solid. The ASML customer case gave some practical insight into the framework but not much detail. They basically said: "it works".
Of course, Mendix is not the only one with an App Factory. Our CLEVR offering in essence covers the same as the Mendix App Factory. In addition, we:
Cover the DevOps part, #LongLiveAutomation
Have extensive experience in governance and quality control; we developed leading Mendix Developer Tooling: The CLEVR Developer Suite
Have many years of app-building experience with Mendix with 3.500+ apps deployed
Offer Business Consultancy, Support & Training